P2E blockchain-based games are the way of the future, serving as a medium for increasing the utility of cryptocurrencies and non-fungible tokens (NFTs). The ability to earn cryptocurrencies and NFTs while playing these games give players more control over the in-game assets they have worked so hard to earn. As the gaming ecosystem evolves, there is a need to roll out new games that are wholly tailored to the needs of regular game players and enthusiasts.
As a result, Celadon Coin, the web3 project behind the first-of-its-kind multi-network token with a pre-built ecosystem, has launched a play-to-earn (P2E) game called CELA QUEST–which is a multiplayer action fighting game that allows users to combat and compete against one another using various weapons and explosives in order to win CELA, the ecosystem's native token.
Built on the Binance smart chain network, Celadon has been devoted to integrating the most cutting-edge and robust blockchain technology features into its cryptocurrency gaming platform, while harnessing the team members' extensive industry experience.
The team is diligently working to build an ecosystem to provide more utilities for the token and its holders, which will increase the token's value and utility within and without its platforms. The team is made up of skilled blockchain developers and programmers, digital marketers, team management gurus, and a variety of crypto enthusiasts.
Along with the tremendous potential of Celadon tokens, the ecosystem also features a digital art marketplace for NFTs that enables users to buy, trade, and auction rare, unique digital products as well as crypto-collectibles with a range of convenient payment methods. The rationale behind this initiative is simple: to provide all persons with a safe and dependable platform where they may buy and sell virtual items.
A Deep Dive into the CELA Quest Play-to-Earn (P2E) Game
Cela Quest is a one-of-a-kind P2E action fighting blockchain game that allows two people to connect and wrest together with unique weapons and melee to earn CELA tokens, which users can sell immediately on the leading crypto exchange Pancakeswap or hold in their personal wallets to unlock more rewards in the near future.
As everyone has encountered play to earn crypto games in their online lives—whether through social networks or otherwise—Cela Quest has enormous potential to become a very accessible play-and-earn game, as its diverse activities, existing products, and solid foundation pave the path for the widespread adoption of these gaming mechanisms.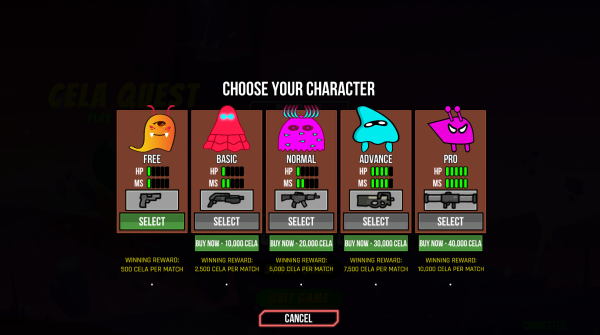 The game offers an extremely easy way for users to participate and earn the corresponding rewards. However, the user must have an NFT character in order to engage in combat. In addition, users can sign up for the first time to receive a free NFT character and earn exciting rewards up to X20, which they can use to buy more powerful characters to increase their earning potential and winning chances.
Furthermore, users can select from a wide range of levels, join various rooms, or create their own from the ground up on Cela Quest.
With its foundation built on the BSC blockchain network in order to take advantage of its speed, simplicity, and low transactional fees, the P2E game Cela Quest aims to introduce a platform for users to directly interact with other users without a chance for a slowdown or slow processing, like how it happens in most of the existing play-to-earn crypto games.
Adam Widelka, the creator of Celadon Coin, said in a statement;
"We are excited to broaden our decentralized offerings beyond a crypto token and an NFT marketplace and toward a blockchain-enabled play-to-earn (P2E) game that offers ground-breaking prospects for all gaming enthusiasts."
"As interest in NFTs and video gaming grows among current and prospective fans, we see a need to develop a game that satisfies their expectations and provides excellent value. This is not just a typical form of P2E game; rather, it is a novel type that all levels of game players will find intriguing and rewarding," he concluded.
Players can earn money by trading Cela tokens for fiat or other cryptocurrencies, or by selling their NFTs when the worth of their characters rises due to battle wins, rarity, and a variety of other factors that cause their prices to rise.
The game, which is downloadable at celaquest.com, is simple to use and suitable for PCs and other regular desktop computers. Users could easily connect to the game with their compatible web3 crypto wallets, like Metamask.  This is just a starting point for Celadon Coin; according to the team behind the project, it will soon be a mobile-based game that expands to support all platforms in the future while implementing new blockchain capabilities.
The controls are also very simple to use for both beginners and seasoned gamers. It simply involves the following:
Left Mouse: Attack
Right Mouse: Melee Attack
Scroll Button or Right Shift: Bombs
W, A, S, D or Arrow keys: Movement
Space Bar: Jump
Investors often wonder what crypto to buy, or perhaps, the best crypto to buy. Celadon Coin (CELA) has positioned itself as the best coin for investors to generate uncountable return on other investments, through its wide range of products this ecosystem is introducing.
Furthermore, potential investors and gaming enthusiasts interested in the P2E game Cela Quest can visit the project's official website to learn more about the project and the intriguing revolutionary opportunities it's bringing to the blockchain gaming ecosystem.
Media Contact
Company Name: Celadon Coin Inc
Contact Person: Adam Widelka
Email: Send Email
Country: United States
Website: www.celadoncoin.com